the thrive portrait project
In October 2014, I decided to take a month-long sabbatical from writing my blog. At the time, I was 47 years old, and more than any other time in my adult life, I felt like I was entering a new stage: a time when things were going great, but I also felt ready for new challenges, new adventures. A time of flourishing. A time of thriving.
During that sabbatical, I decided to look for blogs and other personal writings authored by people who were similarly situated, and feeling the same way I was feeling. Sadly, I found very few. It turns out there's not a whole lot out there that represents what I'm experiencing -- that this isn't a time of disappearing, but more one fueled by the feeling captured by the indomitable Maya Angelou, who said that her mission in life isn't merely to survive, but "to thrive; and to do so with some passion, some compassion, some humour and some style."
And so, I decided to embark upon a new photography project: women who are over the age of 40, and who rage against the idea that they should fade -- who are, in fact, living their lives so "out loud," they're practically roaring. In the process of photographing them with my Hasselblad film camera (a timeless piece of machinery, if ever there was one), I asked them to describe for me what it means to them to thrive. These are their beautiful spirits, and their beautiful stories.
The Thrive Portrait Project eventually evolved into my second book, Make Light.
Learn more about it here.
what does "thrive" mean to you?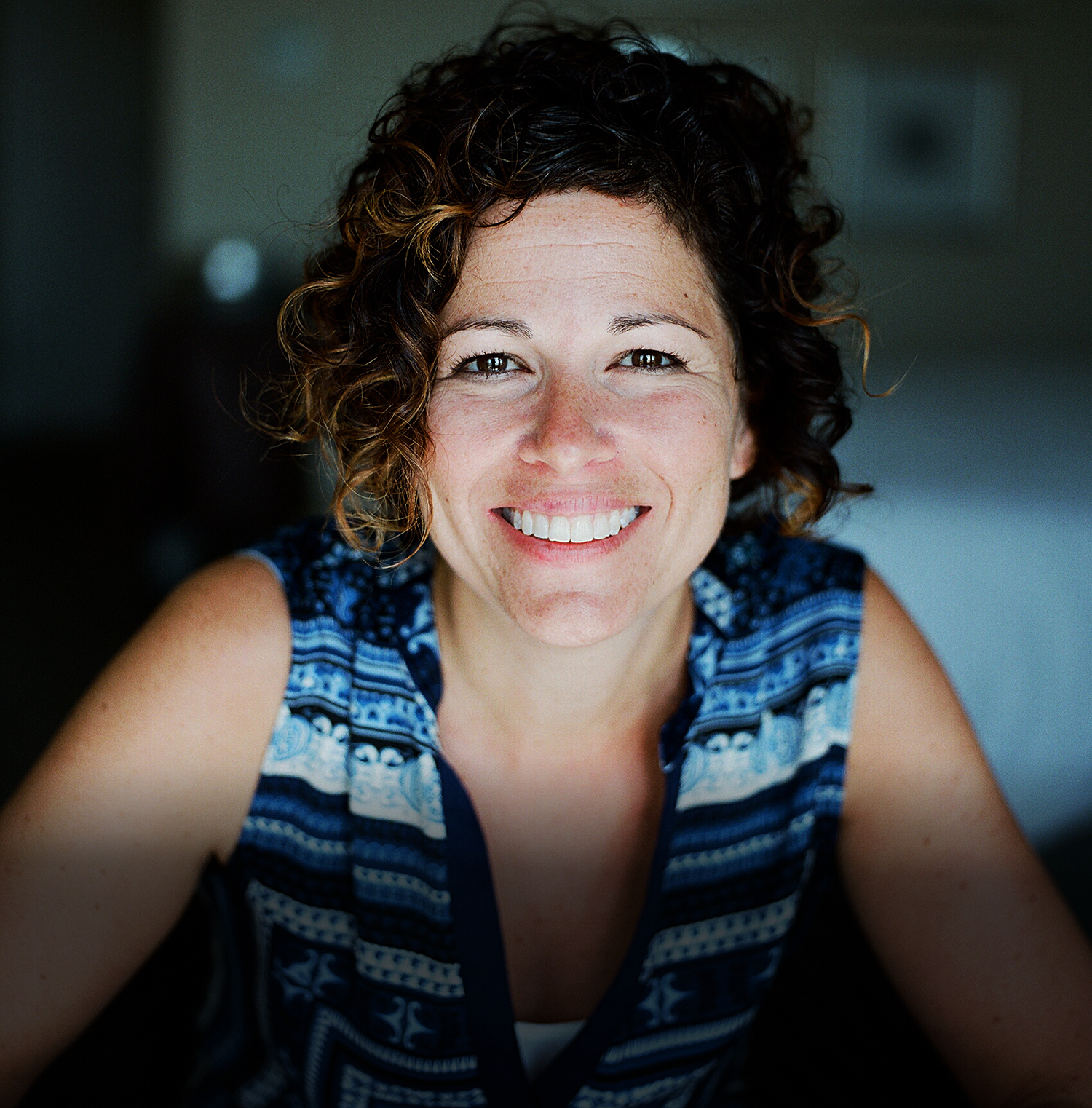 danielle, 42
As I get older, I find that thriving has become all about letting go. Letting go of ego. Letting go of guilt. Letting go of my preconceived notions on how things "have to be." I am thriving and at my best when I am living my own true life, not worried about what others are thinking, and truly connected to what brings me joy.

Danielle is the CEO and founder of Sway Group.
alice, 47
To thrive means to fully embrace who you are, quirks and all, and also get over yourself, because the world needs your light in the world.
See more of Alice's work at alicebradley.net.
nicole, 44
To thrive means more than just succeeding. Thriving means to push yourself beyond where you think you're capable of going, beyond your ordinary goals to that slightly higher level—the one you can't quite see, but know is there. Thriving also means believing in your bones that you deserve the goodness that comes your way because you've worked toward it, prepared for it and invested your full heart in it.
Thriving is hard work plus self-assurance and a healthy dollop of humility right there on top.
See more of Nicole's work at NicoleBlades.com.
jess, 42
Thriving means letting myself be loved. Getting married at 40, later in life, to the exact perfect partner for me, and to a man who sees me and deeply, deeply loves and accepts me, has allowed me to return the favor to myself. And from that source of love and connection, I thrive, and I do feel like all things are possible.
See more of Jess' work at jessweiner.com.
indrani, 62
At 62, thriving means to love my "warts," and to love the challenges more than the stuff people see right off the bat. To be in communion with my secrets in a way that tells the secret that there was a purpose for it, and then use the secret to help someone else shine a light on theirs.
See more of Indrani's work at Indrani's Light Foundation.
heather, 40

In the past year I have started embracing the power of saying and believing in the word NO. I've always been a people pleaser and have avoided using the word for fear of disappointing someone important to me, but I was also falsely convinced that the word would stunt opportunities in my career. If I wasn't open to every offer I was afraid I'd miss out on something big or something that would lead to something bigger. YES meant opening myself up to possibility, right?
But the exact opposite has proven true. I suffered dangerous burnout from this practice, burnout and anger and defeat in every aspect of my life. More than anything I suffered self-doubt. So I started saying, "No," to people and situations that stole my time and my energy. I symbolically said no when I didn't even bother responding to email that I would have previously answered with, "How soon do you need it?" I even stopped at mile 9 in a half marathon and said out loud, "No, I will not kill myself," and allowed myself to walk a couple of miles when doing so during any other race would have meant defeat.
No was the most powerful way of saying, "Yes," to me. Yes had stifled me for years. Now that I have created space in my life, my whole world has opened up. Huge opportunities I'd never dreamed of are appearing out of nowhere. No has made colors far brighter, music more melodic, time with my children so much more calm. Took me long enough to figure out how to thrive, but better late than never.
See more of Heather's work at HeatherBArmstrong.com.
 
kelly, 44
When I was a teenager I recall watching a video on the Milky Way during an astronomy lesson. If the earth is here and the sun is here and the Milky Way stretches to here, then...what else IS THERE? It was a moment when I considered the vastness of it all. What else is out there? became a question I posed to myself on a regular basis. Naturally, that got me thinking of what I'm supposed to be using this time on earth to do. Is it to just live and try to be happy and pay my bills and make some friends and work until I can no longer do so? What I learned, in figuring myself out, is that I'm actually supposed to be the best version of myself that I can be. I'm supposed to vigorously succeed whether that means be gloriously happy or fail spectacularly so as to know what to avoid again. I'm supposed to flourish and be violently original and walk on a path that maybe no creature in the entire solar system has ever walked before. I recently had a long-time friend come over for a visit and she noticed my front yard full of blossoming flowers.
Kelly! You didn't kill these! They look great and healthy.
We laughed about this because I told myself I didn't have a green thumb and then I let it come to fruition. Why do you tell yourself it is so when you don't know what you're capable of doing? another friend asked me a decade ago. Since then, I declared that I was a gardener and that I could learn. I have the space and the entire galaxy to do so. This is how I choose to thrive and I do so vigorously.
See more of Kelly's work at Mocha Momma.
kate, 42
Realising that life is a journey,with many blessings and hurdles along the way. I am very fortunate to have a great husband and family. My church family are an absolute Godsend. And although I probably shouldn't admit it, I quite like myself too!
Taking time for simple pleasures, beach walks, time with friends, reading a good book. It's about getting through the mundane. All those daily chores have to be done, but there's more, so much more. I love my creativity and take great delight in new projects.
Being grounded in who I am, what my life stands for. We have moved a lot in the last twenty years, it always takes a while to settle and re-establish myself. But once I have, I can blossom.
I give my family commitment, love and support. They keep me grounded. Which frees me to think about tartan wallpaper and pink lampshades! Count your blessings, smile!
To thrive is to balance reality with reaching for the stars. Keeping on foot on the ground, whilst soaring with eagles. Have a dream, a goal, a destination. Stand firm in your beliefs. Be kind as you strive to get where you are going. Most importantly be you. xx
kristin, 52
Time, space, to just 'be' – this is what I increasingly value. I realize more and more the importance of this. For what some might call doing nothing or wasting time, the English have a great expression: 'pottering'. The early morning dog walk, the time it takes to make a meal, sorting my underwear drawer, calling Mom, lighting a fire, making a hot water bottle (we live in a very cold house). Fifteen minutes silent prayer as I wake with a cup of tea and a candle before the day starts. Time when I'm not being watched. It is usually in these moments, in this 'down time', that clarity comes, that ideas form, those 'ah ha' moments happen.
Making space for these seemingly unproductive moments – what the poet John Betjeman calls "calm free-wheeling time" - that sustain those busy productive moments, that's what helps me thrive. Perhaps it's a left over from an unstructured childhood but the times I'm alone help me be with other people, the times I'm gentle with myself help me be disciplined and the times I skive off from Brownies help me to thrive.
See more of Kristin's work at thisis50.
katherine, 42
You change the world a little as you move through life, and it certainly changes you. Wisdom sneaks up on you in pieces: little favors gathered from a lifetime of struggles. Now that I've turned forty and left it behind, thriving seems to be about treasuring that wisdom, and relying on it, and taking comfort in it. I can see the world from more of a distance now, my life like a tiny map of patterns and paths. I've seen young heartthrobs become old men. I've seen babies grow into adults. I've seen trouble come and go. My childhood has become vintage. Life seems shorter than it used to, but, at the same time, I see much more clearly how we're all part of something bigger. I know who I am and what really matters. I know that being happy is so much less about getting what you want than about appreciating what you have. That's what thriving means to me now: It's making the most of things. It's giving comfort--and accepting it, too. It's fuzzy socks, and coffee with cream, and reading bedtime stories, and cracking jokes, and dancing around the kitchen like a goofball. It's trying to really savor every good thing in my life. And it's looking for reasons to be grateful, just constantly, every day, as best I can, and trying like hell to let the rest fall away.
See more of Katherine's work at katherinecenter.com.
asha, 46
I used to draw a straight line between thriving and being happy. I'm an optimist and pretty laid-back, and my first 25 years followed a pleasant, uncomplicated path. So, historically, "thriving" was my default.

But as I got older, I discovered that my happiness variables weren't all under my control. Jobs changed on short notice. Kids fell into crisis. Relationships shifted in ways I didn't expect. My effortless happiness, which I had assumed was a given, became something I had to work hard to find.

Today I'm thriving, not simply because I'm happy, but because my feeling of "rightness" is now rooted in something more foundational than my circumstances. I'm not some unshakable Zen master. But I know that who I am and what my life looks like aren't as connected as I once thought they were.
See more of Asha's work at Parenthacks.
lisa, 47
When I was younger I used to constantly worry that I wasn't doing things "right," that somehow everyone else had it all figured out except me — in work, love, friendship, being cool, everything. Think about what a burden that is, to live in constant fear that you are doing something wrong or that you are not enough?

In my forties I finally began to understand that no one has it figured out either, that we are all in the same struggle. Understanding that was so liberating. Not only was I not alone, but I also learned there is no such thing as perfection. No matter how hard we try, we'll never get to perfection. And it wasn't until I grasped that understanding that I began to thrive. I am finally free to relax, to be myself, to live with joy & trust, not just when good things happen to me, but every day, even when things are messy.
See more of Lisa's work at lisacongdon.com.
laurie, 45
Thrive, by definition means to grow and flourish. But I'm finding there's an intentionality and an entitlement that wasn't there when I was younger. So for me, I think thriving means to grow and flourish with intention. To deliberately grow and flourish in the way that I am meant to grow and flourish. And, more importantly, to believe that I am worthy, not only of growing and flourishing, but also of deciding for myself what that looks like. That I don't need to accept any other view of what growing and flourishing means. That I deserve to determine my own path toward growth – to define flourishing for myself. To sit down in the driver's seat, decide where I want to go, know that I have the resources to get there, and feel confident that I am entitled to choose the route by which I get there.
See more of Laurie's work at Step Away From The Screen and Make Something.
laura, 43
I've found that "thriving" isn't the charming, elegant concept that I used to hold in my imagination. It's not living pleasant, motivational sayings designed in a perfectly pinnable package. Not at all. In fact, for me, it's quite the opposite. The real definition of 'thrive' is "to grow vigorously," and I've found the only time I really do that is when I fail spectacularly. So then thriving is the other side of failure...which means, for it to exist in any form, I have to fall on my ass, big time. It's a work in progress, it isn't a happy ending...it's an action verb. It's rolling with the punches when you don't want to. It's forgiving yourself, forgiving others. It's getting up after you've been knocked down. And there's nothing delightful about getting up after failure...that part sucks. But it will get better. And eventually, there will be cheese fries.
See more of Laura's work at The Queso.